Thank you for your interest in our
Reusable, AAMI Level 1 Isolation (non-surgical) Gown
Feel the difference in our Reusable, AAMI Level 1 Isolation (non-surgical) Gown with a sample test swatch. To request your fabric swatch, simply fill out the form and allow 5 business days to process your sample request.
If you have questions or would like to place an order, please feel free to contact us anytime. We hope to be of service in the near future.
Sincerely,
Fran Eskew
Account Manager
Richmond Dental and Medical
Direct: 704-405-4012
www.RichmondDentalAndMedical.net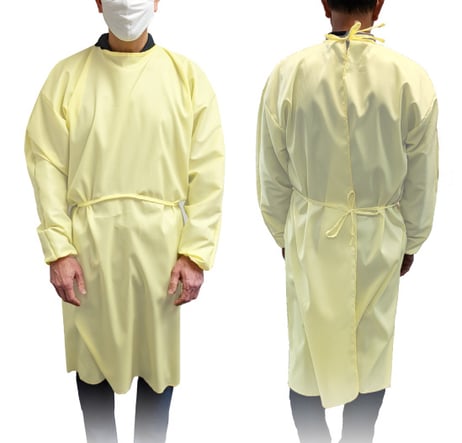 Assembly in Mexico or Nicaragua
The product has not been FDA cleared or approved;
The product has been authorized by FDA under an Emergency Use Authorization (EUA) for use as PPE in healthcare settings by HCP as they may help protect HCP and/or patients from the transfer of the SARS-CoV-2 virus in low or minimal risk level situations to prevent the spread of COVID-19.
This product is only authorized for the duration of the declaration that circumstances exist justifying the authorization of emergency use of medical devices, including alternative products used as medical devices, due to shortages during the COVID-19 outbreak, under Section 564(b)(1) of the Act, 21 USC 360bbb-3(b)(1) unless the authorization is terminated or revoked sooner.